1. GLAM MERMAID SCALE NAILS
The first nail idea we have to show you is glam and mermazing! Most of the nails are black and two of the nails have a sparkly mermaid scale design. One nail also features a cute, little starfish too. This is a pretty design that will suit everyone. You can check out a short tutorial on the page below that shows you how to create the mermaid scales with a stencil. It looks quite simple, so you can create your own glitzy mermaid manicure at home!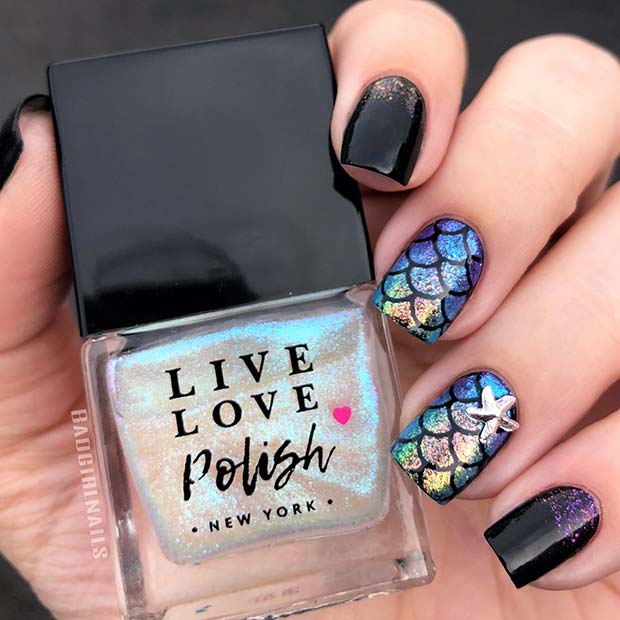 2. PRETTY LIGHT BLUE NAILS
Brighten up your look with beautiful blue nails like these. Here we have long coffin nails that are all painted blue except for one. The accent nail has a white shell design. You can recreate this simple design or you can jazz up the manicure with silver starfishes, shells, and rhinestones. These embellishments can be bought online for a cheap price. You just stick them on with nail glue after your nail art has dried.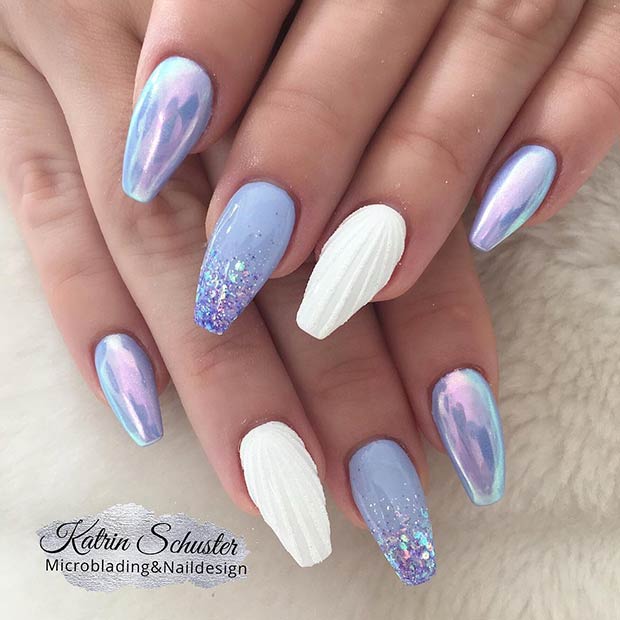 3. NAIL DESIGN FOR SHORT NAILS
When scrolling through the internet to find your next nail look, you may find that most of the nail art is on long nails. However, if long nails are not your thing, then you can have gorgeous mermaid nail art on short nails too. Here is a great example. Two nails on each hand have mermaid scale art and the rest are painted a bright color with shell and starfish decorations. Recreate the whole look or you can try just one or two of the designs.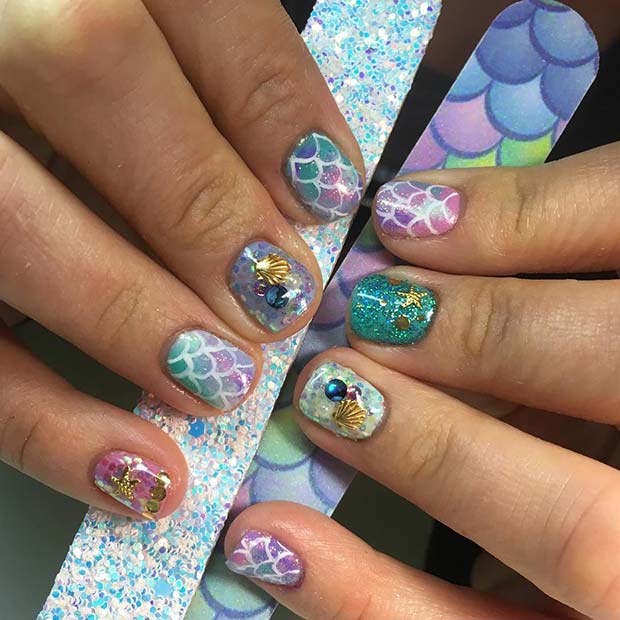 4. CUTE OMBRE NAILS
Next, we have a cute and simple nail design inspired by mermaids. All of the nails are painted light blue and pink expect for one. The accent nail is painted silver glitter and has a one small shell and rhinestone. This is a pretty nail design that you can easily recreate yourself.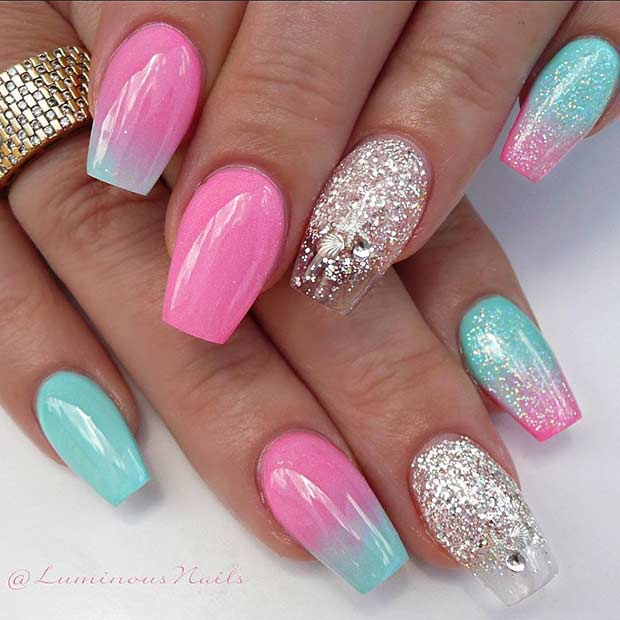 5. PRETTY NAILS WITH A GOLD MERMAID
Like your nails to look glam and unique? If so, check this out! Here we have beautiful and light nails and each one has a different design. One is simply pink, the next is sparkly, then there is an embellished nail and finally, the last nail has a stunning gold mermaid decoration. This is a gorgeous and chic design and you can buy little gold mermaids like these online.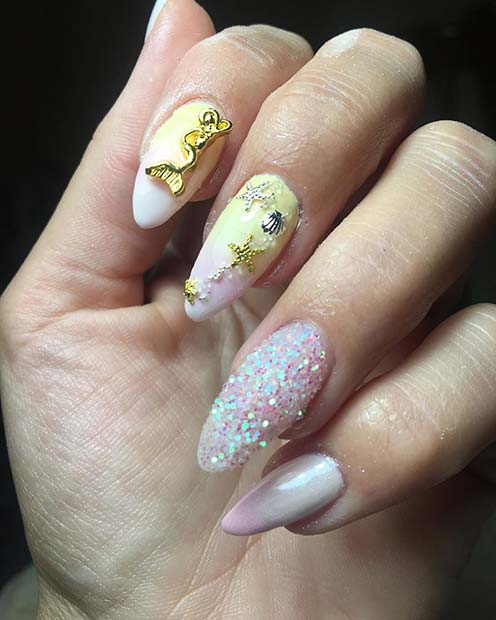 6. GLITZY MERMAID NAILS
Our next nail idea is glitzy and gorgeous! All of the nails on each hand have a different design and these include glitter, ombre, rhinestones and shells. This is an amazing set of nails and it is perfect for the ladies who want to stand out from the crowd. Recreating this look yourself will require patience and time, but it will be worth it! Shop for some glitter and under the sea nail decorations and you are good to go.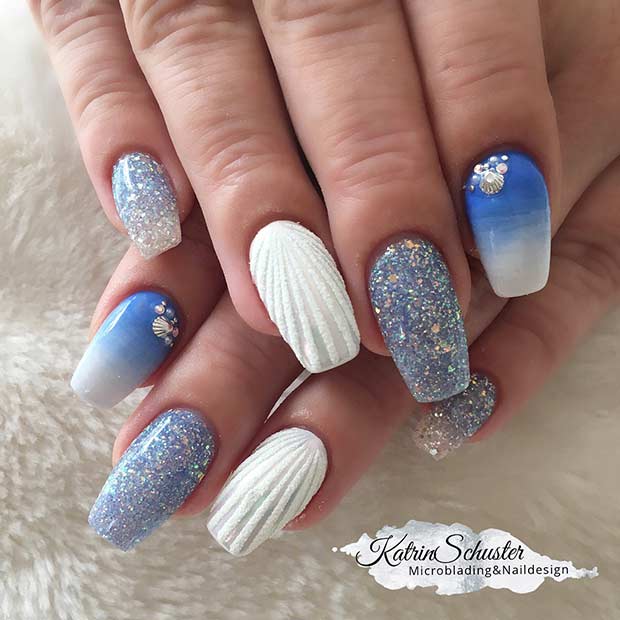 7. BEAUTIFUL MERMAID NAIL IDEA
Next, we have a beautiful mermaid nail idea to show you. Some nails have the mermaid scale design, some are decorated with rhinestones and there is even a starfish too. It is a stunning manicure and the look was created with Sally Hansen Color therapy Well Well Well, Fresh Paint Matte About You and Sally Hansen Hard As Nails Big Teal.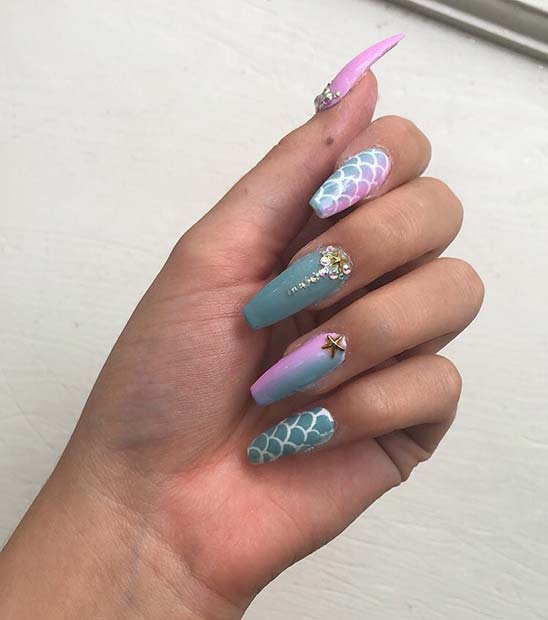 8. CHROME NAIL DESIGN
We have all seen those amazing makeup brushes with mermaid tails. If you love those as well, then you need to see this next nail design. These stiletto nails are chrome and look just like the mermaid brush that is featured with the nails. Some of the nails are matte black and some have gems. This is a super stylish idea and you can recreate the whole look or just try the chrome.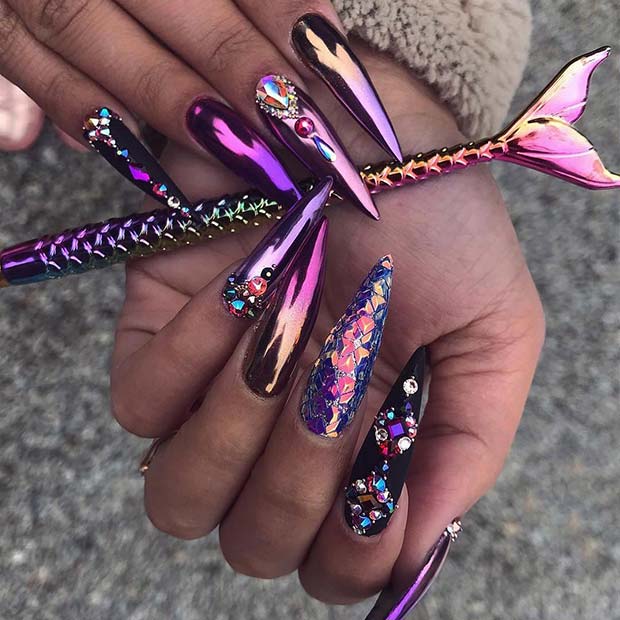 9. ARIEL INSPIRED NAILS
Seriously, how cute are these nails? This nail art doesn't feature any seashell themed gems, yet it's obvious to anyone that these are mermaid inspired nails. That's because the nail artist used The Little Mermaid color palette.